Title: Ignite
Series: Unbreakable Bonds #7
Author: Jocelynn Drake & Rinda Elliott
Publisher: Drake & Elliott Publishing LLC
Release Date: July 26, 2019
Heat Level: 4 – Lots of Sex
Pairing: Male/Male
Length: 73,000
Genre: Romance, Thriller/Suspense
Synopsis
Two of Noah's Army buddies are dead.
Someone has taken shots at Noah.
And now Noah's former lover, JB, is a target.
Noah, Rowe, and JB team up to track down a killer trying to take out all of Noah's old Army team in hopes of covering up a dark secret.
But this trip to Washington, D.C. threatens to unravel the perfect life that Rowe and Noah have built over the past three years. JB's arrival in their lives have Rowe and Noah wondering if they want the same thing for their happily ever after.
Rowe is sure of one thing—nobody threatens his man. And he sets out to show anyone with a hidden agenda what a bad decision that was.
Excerpt
Noah smiled to himself as he watched Rowe drive them home. His hands slid easily along the leather wheel. Soon those strong hands would be stroking down his body. The way the man kept looking at him during the wedding had him half-hard all evening. He knew it was the wedding—all the romance in the air.
A lingering worry had nipped at him earlier in the day that Ian's wedding would bring back painful memories of Rowe's own wedding, but he seemed fine and Noah couldn't be more thankful.
So, he watched those hands. Being touched by Rowe was like nothing else in this world. The man worshiped his body with an all-in intensity that frankly awed Noah. And he knew that wouldn't change, no matter how long they were together. He took in his dark-red hair, lit by moonlight, disheveled as usual, and his ripped shoulders and arms. The man filled out a suit well, but he couldn't wait to peel him out of it.
"Keep staring at me like that, and I'll be finding a secluded spot to pull over," Rowe murmured, giving him a steamy look.
"That'd be fine with me. Did I tell you how hot you are today? You should wear suits more often."
"Soon as we get home, I'll show you my birthday suit."
"That's my favorite suit of all." Noah grinned.
Rowe pulled to a stop at a red light and turned toward him, his green-eyed gaze hotter than the sun. "You clean up nice yourself. Come here."
Noah leaned over to kiss him. Brakes squealed sharply. Noah jerked his lips away from Rowe's before they could touch. A car had pulled up, perpendicular to theirs, in the middle of the intersection. A loud bang quickly followed and the ping of glass breaking. Startled, he looked at the windshield to find a small hole in it.
"Shit, get down!" Rowe grabbed him and shoved him into the seat, covering him with his body just as another shot broke through the windshield.
"Someone is fucking shooting at us!" Rowe stretched over him to reach the glove box where he kept his gun. He yanked it out but stayed down. "Are you hurt?"
Noah couldn't believe the man covered him, but that was Rowe. "No, I'm fine. You?"
"I'm good."
Tires squealed again and the roar of the car engine grew softer. A knock on the driver's window had them both jerking upright. Rowe aimed the gun in that direction, ready to put two in whoever was stupid enough to be standing there. Noah rose, ready to jump out of their truck and attack.
The woman outside screamed and ducked away from the window. "I was just making sure you were all right!" she yelled, and Rowe immediately lowered his gun. "The person shooting drove off, but I got a good look at the car. I'm beside you at the stoplight. The driver just pulled right into the intersection and someone shot out of the front passenger window. Is everyone okay? I called 9-1-1."
Noah looked out the windshield to find the first hole directly in front of him. He turned and found a matching bullet hole in the seat. It would have pierced his heart. Whoever shot at them had one hell of an aim. Or at least, they would have if Noah hadn't leaned over to kiss Rowe at that moment. <em>Holy fuck</em>, <em>that was close!</em>
His stomach was in knots as he met his boyfriend's gaze. "What the hell?"
Rowe rolled down his window, apologizing to the woman for scaring her. "What kind of car was it?"
"A black Volkswagen hatchback."
"Did you see anyone in the car? Could you tell if either person was a man or woman?"
"The passenger looked like a man. I'm sorry, I didn't get a good look at the person's face."
Sirens sounded in the distance, getting steadily closer. Rowe put his gun back into the glovebox and they both got out of the truck to look at the damage. Two police cars arrived with a roar of engines. The first cop opened his door and stood with his gun at the ready.
"The shooter drove away," the woman yelled. She was certainly helpful and brave to have gotten out of her car at all. Her red Honda was still parked at the light beside them with several more cars stalled there as well. None of those people had gotten out of their vehicles, but now they did as the police gathered.
Rowe and Noah answered questions but because they'd ducked, they had less to offer by way of explanation than the woman who'd witnessed the whole thing.
"Was more than likely a drive-by," one of the cops said as he made a few notes in his little notepad. "We've had a few of them recently. I'm glad nobody was hurt this time. The others weren't so lucky."
But Noah had a feeling it wasn't some random drive-by.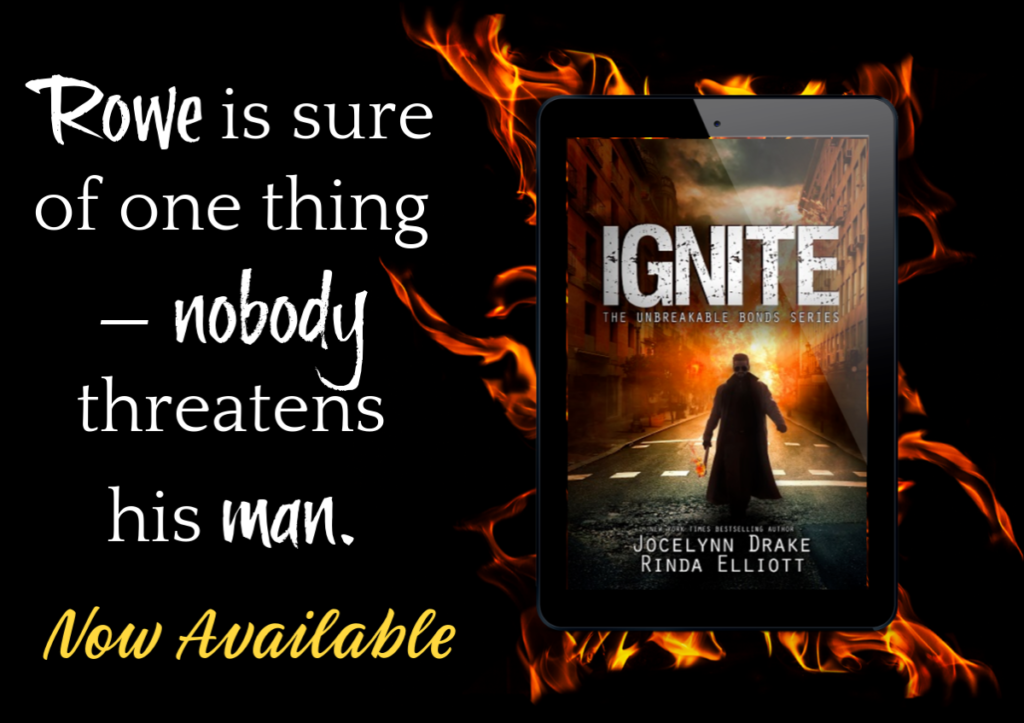 5 stars
I love, love, love these characters and this entire series! Noah and Rowe always bring adventure and shenanigans and we saw a lot of that in this book. I always expect a few shootouts and maybe a couple of explosions in an Unbreakable Bonds book and we got plenty of that here. I enjoy how much these guys can get into without it ever seeming like the authors are repeating themselves. It was nice to see a bit of Noah's past and I really hope we see more of JB in the future! He definitely deserves his own story and to get his HEA. 
Even though the guys from the previous books were not a main part of the shenanigans here, we still get to see them and they still hold a strong part of Rowe and Noah's life. The family theme is presented throughout this series and it makes me love these guys so much more with how much they support and love each other. And seeing baby Daci made me soooo happy!! 
*** Copy provided to Bayou Book Junkie for my reading pleasure, a review wasn't a requirement. *** 
4.5 Stars
The boys are back in another installment of the Unbreakable Bonds Series. Going into this new adventure I got what I was expecting but in a good way. The book starts off with the wedding of Ian and Hollis, who finally get their happily ever after. Rowe Ward the owner of a very successful security firm and his life partner Noah Keegan having enjoyed the celebration are heading home when someone takes a shot at Noah. These men attract trouble like magnets. The police think this is a drive-by shooting but the couple has a gut feeling this was deliberate.
Out of the blue, Noah gets a call from an army buddy, JB. Apparently, someone has murdered two members from their old military team and JB had been warned his life was in danger. Fleeing to see Noah, more attempts are made on their lives and the men desperately try to figure out who wants them killed.
Along the way, self-doubts over their relationship plague both Rowe and Noah. They start to wonder if they want the same things in life. At one point I felt like screaming "Just ask each other" but they are men, after all, talking about their feelings isn't a strong suit for this couple. I adore how perfect Rowe and Noah are together in their special and slightly dysfunctional way. They truly love one another and there are plenty of steamy scenes. Even though they know they want to be together forever, at times they are simply oblivious to everyday life issues.
The tension ramps as hit-men chase Rowe, Noah and JB relentlessly. Our guys always seem to be one step ahead of the villains. As they slowly piece together this complicated puzzle, the group uncover a ruthless mercenary that will stop at nothing to keep his vile and dark past a secret.
We also get a glimpse from the other members of the Unbreakable Series and I always love reading about them. The dynamics of these friends has developed into a strong and supportive family unit.
Yes, it would be helpful to read the previous books to truly appreciate this group of intensely loyal friends but I believe this story would work as a stand-alone. If nothing else, reading Ignite may tempt you to discover the other books written by this talented duo. The storyline does stretch the imagination quite a bit at times but that is part of the appeal for me. I recommend this boisterous and entertaining book, especially if you are a fan of weddings and explosions, not necessarily at the same time.
***Copy provided to Bayou Book Junkie for my reading pleasure, a review wasn't a requirement.***
3.5* Fess up: who read this blurb and had a pang over Rowe and Noah's HEA??!! Phew!!!!!!!
Book 7 in the UB series can be read as a standalone because it's about established couple, Noah and Rowe, and the other leads from previous tales don't really appear until towards the end, though of course, Lucas is keeping tabs on everyone who's not safely home. It's more a nice-to-read tale than one that feels essential to the series, given that Noah and Rowe are already living their HEA with each other, their three furry babies and Ward Security and its adventures, but it clears up some stuff between them and maybe lays some ghosts to rest and secures their future…
No Spoilers here, but I am *so* glad that what I thought might happen in the tale, i.e., what I thought the blurb implied, didn't happen.
Anyway, the tale is the usual high-octane adventure that the UB and WS guys like to have, with a bit of Noah's past thrown in and the introduction of JB, who as the tale ends, has no intention of joining WS, or so he says… JB seemed to enjoy the adventure that he found himself on, despite finding himself in danger and the secrets that unravelled here, so could it be a case of never say never? I suspect we'll see more of him and a WS guy who made a brief appearance, in a future tale in one of these authors' series.
Of course, our guys get to have fun taking out bad guys, blowing stuff up and doing what UB and WS boys do best, and truths are outed. Some of those truths felt a bit overdue, tbh, for the length of time that Noah and Rowe have been together, but I think straight-up talking strengthened them, because they ended up no longer keeping the same secret from each other. What's with guys and brooding over stuff and not talking?? LOL! Other truths were needed to clear the air of guilt and to put the past firmly in the past, so that Noah and JB could move forward as simply friends and brothers in arms. Again, no spoilers, but their mutual secret involved doing a covert… favour for more than one of the alphabet agencies, because it was needed to kill off any ongoing danger to them and their loved ones.
There's a nice reunion scene at the end, with all the UB guys and their families in the making, and with a certain couple in the middle of even more HEA plans. Methinks there may be a holiday novella in the offing…Pretty please?
ARC courtesy of the authors and Bayou Book Junkie, for my reading pleasure.
Meet the Author

Jocelynn Drake and Rinda Elliott have teamed up to combine their evil genius to create intense gay romantic suspense stories that have car chases, shoot outs, explosions, scorching hot love scenes, and tender, tear-jerking moments. Their first joint books are in the Unbreakable Bonds series.
Giveaway
a Rafflecopter giveaway
https://widget-prime.rafflecopter.com/launch.js